The joy of a maxi dress comes from the fact that it looks good whatever shape you are and can be worn for any occasion. Maxis is also extremely easy and comfortable to wear, and it is their versatility that makes this style of dress as popular today as ever.
Wearing a maxi dress to work depends on the dress policy of your office, but as most modern businesses these days have a casual/professional outlook, the maxi dress can be a perfect choice.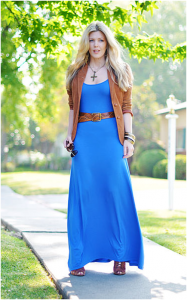 Get the right cut
If you do want to wear a maxi dress to work, make sure you get a design that covers your shoulders and doesn't have too low of a neckline. You don't want to feel self-conscious, and you should always keep your look professional.
Colour
Maxi dresses come in all different colours, styles, and designs. If you want to wear this style to work, opt for a black maxi dress because this is the best colour for the office, always looks smart and goes with everything. You can find a black maxi dress available at AX Paris.
Shoes

Another benefit of a maxi dress is that they go with pretty much any shoe style. For the office, wear leather ballet pump styles or smart sandals. Just because your dress is long, that does not mean you can get away with wearing whatever you like on your feet!
Arms

Keep your arms covered. If you work in an air-conditioned environment, you will need a cardigan, short blazer or jacket that can add to the office look. A bright colour in the summer can brighten up your outfit, or stick to grey if you want to keep the business look.
Accessories
You can choose to smarten up your look with a belt and some jewelry, such as a statement piece.
Hair

Wear your hair in an appropriate fashion for work. With your hair tied back and off your face with the heatwave set to return, a maxi dress is perfect for keeping cool in the office.

Going out

The best thing about wearing a maxi dress to work is that as soon as you leave the office, you can swap your shoes over, touch up your makeup and let your hair down to be ready for a night out.